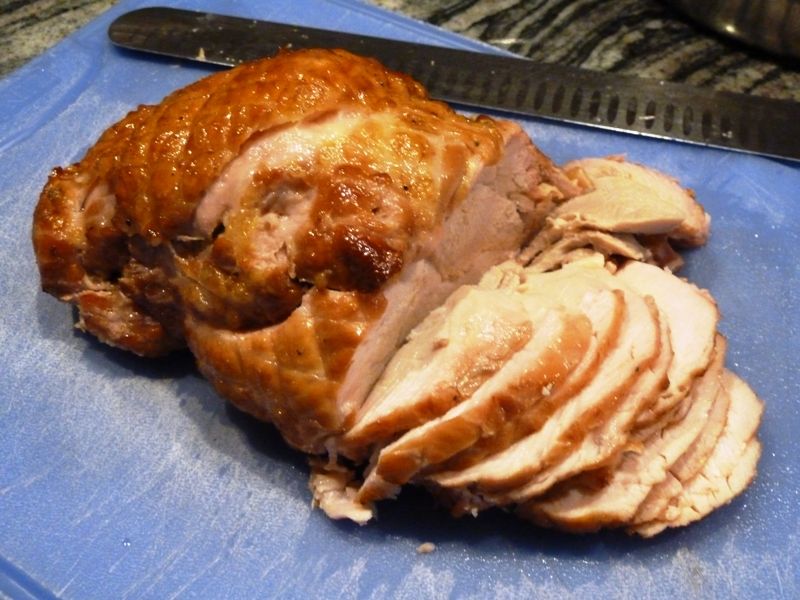 Smoking, Roasting, Baking, Grilling meats, poultry, cheese, and seafood is a wonderful way to provide protein for a Low Carbohydrate lifestyle.  It's a great way to marry my smoking hobby with our decision to eat low carb meals.  Chose a fresh 3 lb Ready to Roast or Grill Foster Farms Classic Herb Turkey Roast (comprised of White & Dark Meat) which has 1g of carbs per serving.
I prefer to use my own selection of dry rubs, marinades, and/or brine solutions but experience has shown that pre-seasoned roasts and poultry provides wonderful alternatives.
Preheated the MAK 2 Star Wood Pellet BBQ Smoker-Grill using Pacific Pellet Gourmet BBQ Hickory wood pellets to 180ºF (Smoke setting).
Smoked the Turkey Roast for an hour with Hickory wood BBQ Pellets.  Increased the MAK 2 Star pit temperature to 350ºF until the internal temperature of the Turkey Roast reached 170ºF.  Rested the Turkey Roast under a foil tent for 20 minutes before serving.
For estimating purposes:  Total time was about 3½ hours …  ½ an hour to preheat – 1 hour of hickory smoke (180ºF) – about 1½ hours at 350ºF until internal temperature reached 170ºF – and 20 minutes under the foil tent.
Used my Camp Chef 3 Burner Stove for the side and sauce.   Since I live in Norther California I've always looked for ways not to heat up the kitchen with the oven and stove top.  My Camp Chef Burner Stove and MAK 2 Star wood pellet grill provides me with those options.  Our year round moderate temperature, except those hot summer days, allows me to cook outdoors all year.
I steamed a large head of Cauliflower for the faux mashed potatoes.  I prefer steaming my vegetables over boiling them – try it.  I think you'll agree.  The faux mashed potatoes recipe is fairly generic.  Mash the cauliflower and then add salt/pepper to taste, butter, and/or heavy cream/sour cream.
The Turkey Roast was exceptionally moist and the Classic Herb marinade did not overpower the Turkey meat.  My Low Carb plate consisted of faux mashed potatoes (mashed cauliflower), half an avocado, a small Caesar salad, and topped off with a Low Carb Mushroom White Sauce.
Low Carb Mushroom White Sauce Ingredients

Melt the butter, add the EVOO, and sliced mushrooms.  Sauté the mushrooms.  Add the heavy cream & wisk.  Wisk in the sour cream.  Salt/pepper to taste and add your favorite low card thickening agent for the appropriate amount of liquid.