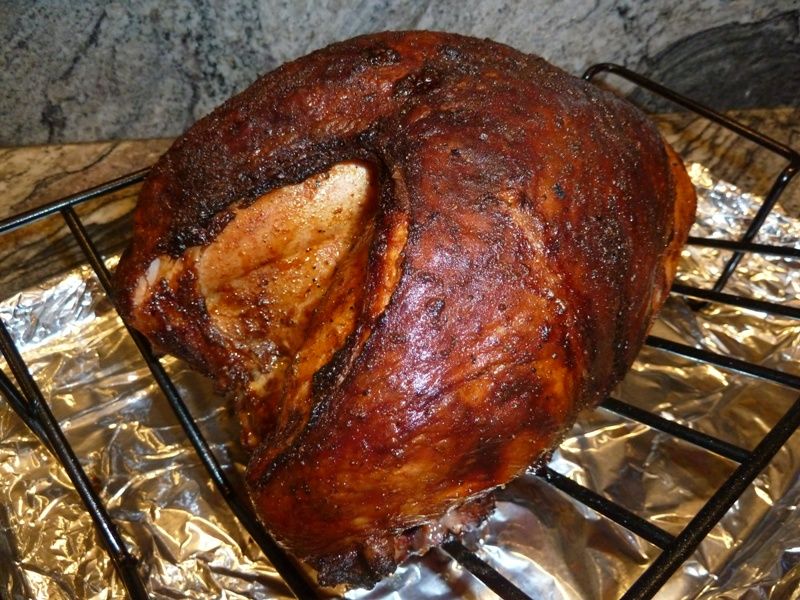 Turkey should be served more often than just on a few holidays.  At our house it's served year round and it provides many economical meals.  Not only the initial smoked/roasted turkey with all it's sides but all those wonderful leftover sandwiches, soups, and casseroles.  I always make room in our freezer at holiday time to store the great deals that grocers advertise to get you in the front door.
Everyone naturally levitates to the Brand Name Turkeys, and there's nothing wrong with that, but are you aware that your chain store grocer in-house brand named turkeys are provided by those same brand named companies that we're all familiar with.  In our case, our local Savemart brand is Master Cut and I've been serving my family and friends many scrumptious meals with this brand name.  Besides, not only are you getting a quality product but you can save a lot of money. This particular 10 lb Bone-In Turkey Breast I smoked was normally priced at $2.19/lb but I paid $0.99/lb and it cost me $10 rather than $21.50.  Be on the lookout during the holidays and right after when grocery stores are liquidating their unsold inventory.  You will find great deals!!  Properly stored a frozen turkey can last many months in the freezer.
Rubbing a good Olive Oil like Annie's Roasted Garlic Extra Virgin Olive Oil under and on the skin will enhance your results.  Rubbed the bone-in turkey breast with Annie's EVOO and Jans Dry Rub.  Wrapped the seasoned breast with plastic and refrigerated for 2 to 4 hours.  Always defrost your meat in the refrigerator.  A little planning goes a long way.  Merely seasoning the skin does little to improve the turkey breast meat.  That's why I always season on and under the skin.
Used Pacific Pellet Gourmet Hickory Wood Pellets to preheat the MAK 2 Star Wood Pellet BBQ Smoker-Grill to 225ºF.  Hickory smoked the Bone-In Turkey Breast for 2 hours before increasing the MAK 2 Star pit temperature to 325ºF.  Always cook to Internal Temperature and do not rely on times except for planning purposes.  As you can see, using a V-Tray provides for an environment for even heat distribution and transporting the breast.
Took the turkey breast to my preferred internal temperature of 170ºF.  You'll find that most will take their turkey/chicken breasts to 165ºF but I prefer the results at 170ºF.  The meat is still moist and tender and not dry and stringy!!  Besides helping with the flavor profiles, rubbing your turkey with EVOO has the added benefit of giving you a golden brown appearance that will make even the most fussy eater want to dive in.
Took 3 hours and 45 minutes for the turkey breast to go from an IT of 35ºF to 170ºF.  Rested the Hickory smoked breast under a foil tent for 20 minutes before carving and serving.  a healthy potion of smoked turkey breast, stuffing, steamed potatoes, gravy, and asparagus …  Bon Appétit