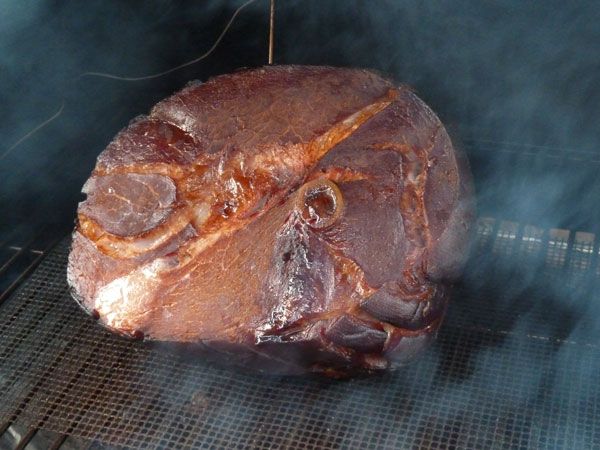 My contribution to our family Thanksgiving feast this year is Ham.  For years I have always just reheated fully cooked Hickory Smoked Hams in the oven or an 18-Qt Roaster Oven at 350ºF for 15-20 minutes per pound.  The Hams turned out OK but often were dry.  After reading Forum posts on smoking a Ham on a wood pellet smoker-grill I decided to practice to see the results for myself.  The general consensus is that Spiral cut Hams tend to dry out … You wouldn't believe how hard it was to find an old fashioned Smoked Ham that wasn't spiral cut!  Used an 11.7lb ready to eat Hickory Smoked Butt Half Ham.
Preheated my MAK 2 Star Wood Pellet BBQ Smoker-Grill to 225ºF with Hickory wood BBQ pellets.  Initial estimate was that it would take about 9 hours to reach an Internal Temperature (IT) of 140ºF. Trimmed some of the excess fat and lightly scored the surface to aid in Hickory smoke penetration.  IN at 9 am with an IT of 38ºF.
OUT at 4 pm with an IT of 141ºF.  Took 7 hours vs my estimated 9 hours to reach my desired IT of 140ºF. Rested the Ham under a foil tent for 20 minutes.  The scoring gave it a nice look and I couldn't wait to see the results.
The Money $Shot$ … A few slices of Hickory Smoked Ready to Eat Fully Cooked Butt Half Ham with a side of scalloped potatoes, and some Crescent Rolls.
The Ham turned out extremely moist and the copious Hickory Smoke from the MAK 2 Star added some great flavor.  I was truly impressed with the moistness but for Thanksgiving I might take the IT to 150ºF vs the 140ºF.  Inner portions of the Ham, though fully cooked, had that slight rubbery texture that I attribute to meat not cooked properly.  Either 140ºF is a bit low or I incorrectly placed the meat probe.  Any suggestions and/or comments?