Salisbury Steak is one of the ultimate comfort food items of all time IMHO!!   Does it get any better than having your own little Meatloaf drenched in a succulent Brown Gravy and smothered with Mushrooms and Onions?  I think not!!
My Meatloaf ingredients consist of 2 lb 80% Lean Hamburger, Eggs, Bread Crumbs, Crushed Garlic, Pepper, Fagundes Seasoning, Worcestershire Sauce, Onion Soup Mix, Tomato Sauce, sautéd Onions and Red Bell Pepper.
Preheated the MAK 2 Star General Wood Pellet BBQ Smoker-Grill with Hickory wood BBQ pellets to 250ºF.  Formed 7 Salisbury Steaks and a large meatball for the Pit Master!  Would have used Oak pellets but ran out and you can never go wrong with Hickory!
Waited a ½ hour for the Salisbury Steaks to firm up before inserting meat probes.  Took 1½ hours at 250Fº to reach an Internal Temperature (IT) of 150ºF.  When making a Meatloaf I take it to an IT of 160ºF but the Salisbury Steaks will be going back into the MAK for the finishing touches.  Bumped the MAK temperature to 350ºF for the next phase.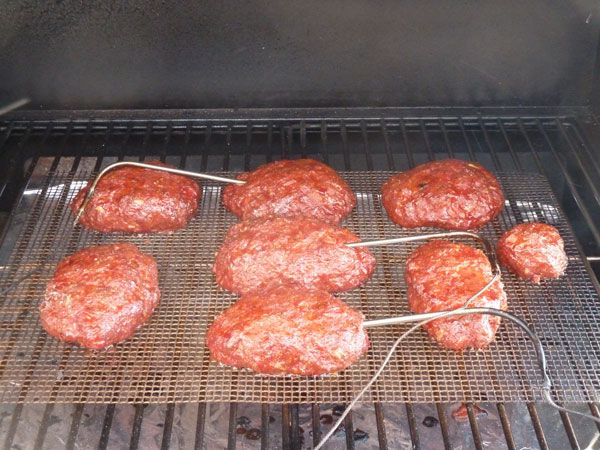 The components consists of Hickory Smoked Salisbury Steaks, 6-7 cups of Brown Gravy with Sautéd Mushrooms and Onions.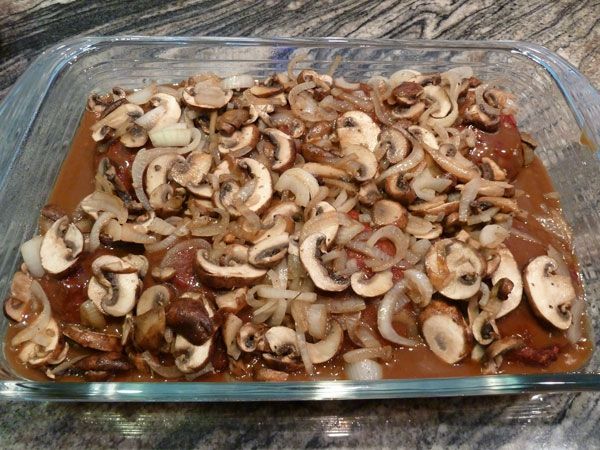 Placed the Smoked Salisbury Steaks back in the MAK at 350ºF for 45 minutes.
Now honestly, can anyone resist diving in?
The Money $Shot$ … A Hickory Smoked Salisbury Steak, Mashed Potatoes and Brown Gravy with Mushrooms and Onions, a side of Corn on the Cob, and some Orange Flesh Honeydew Melon washed down with a glass of Cabernet Sauvignon … Life is good … Bon Appétit