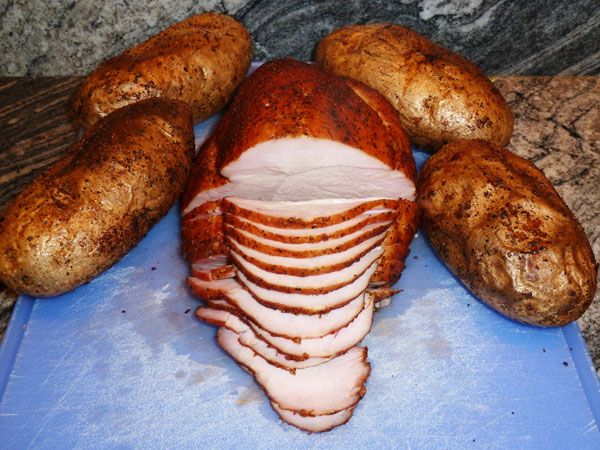 Picked up some nice Pork Sirloin Tip Roasts at Costco.  Each weighed in at almost 3 lbs.  Rubbed one of the Sirloin Tip Roasts with Annie's Roasted Garlic Extra Virgin Olive Oil for the glue and a liberal amount of Plowboys BBQ Bovine Bold.  Wrapped the roast in plastic wrap and placed it overnight in the fridge.  This was my inaugural use of the Bovine Bold Rub and I was anxious to taste the results.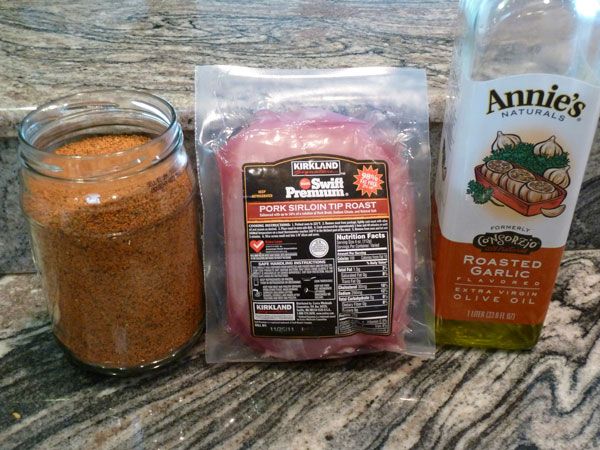 Removed the pork roast from the fridge and rested on the counter for 30 minutes while the MAK 2 Star Wood Pellet BBQ Smoker-Grill was preheated to 250ºF using Hickory wood BBQ pellets.  If the initial assault on my senses is any indication, the Plowboys BBQ Bovine Bold Rub is going to work just fine!!  Have decided to pull the Pork Sirloin Tip Roast when the Internal Temperature (IT) hits 150ºF.  The roast had an IT of 41ºF when inserted.
Previous cooks of Baked Potatoes in the Char-Broil SRG has shown me that it takes 1½ hours to bake large potatoes on HIGH with the Lid Open.  Rubbed the potatoes with Annie's Roasted Garlic EVOO and seasoned the skin with Fagundes Seasoning.  Spuds were done when they hit an IT of 210ºF.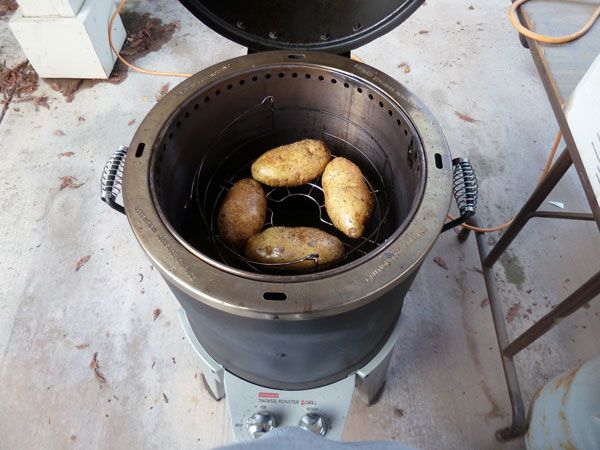 Took 3 hours for the 3 lb Pork Sirloin Tip Roast to reach an IT of 150ºF.  Pulled the roast and rested it under a foil tent for 20 minutes.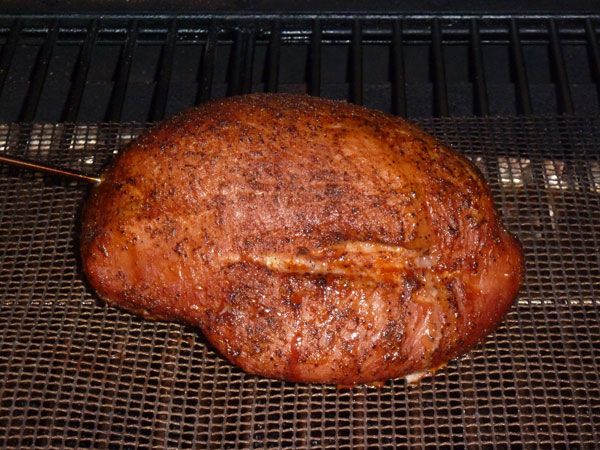 The initial taste test of the Plowboys BBQ Bovine Bold Hickory Smoked Sirloin Tip Roast was succulent!!  The Money $Shot$ … A few slices of Hickory Smoked Plowboys BBQ Bovine Bold seasoned Pork Sirloin Tip Roast, a Baked Potato with a side of Corn … Bon Appétit