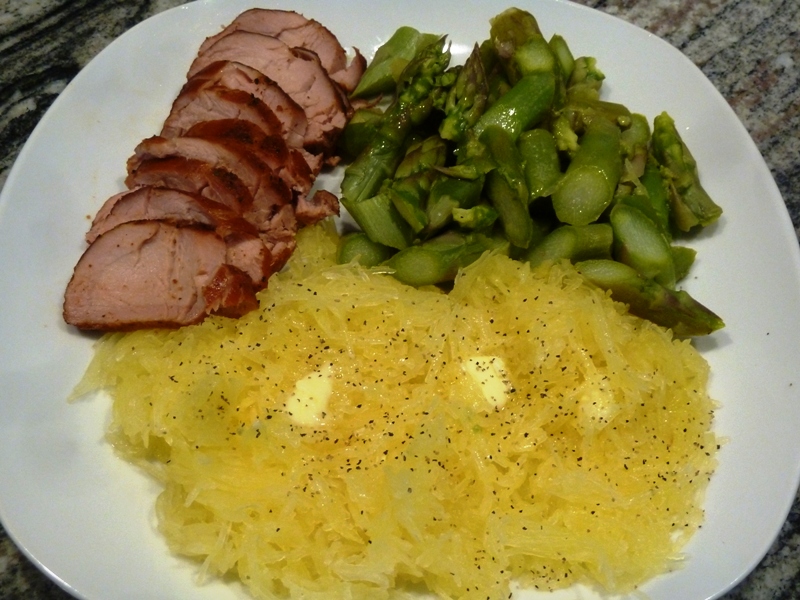 Hickory smoked Pork Tenderloin, Spaghetti Squash, and steamed Asparagus … great Paleo combo.  After all the years of smoking/cooking Pork I have to wonder why I never grabbed a Pork Tenderloin before now!  Sure, I've done Pork Loins, Chops, Butts, Hams, and other cuts, etc but I always passed on the Tenderloin.  Well I won't be making that mistake again.  Now I know how and why it got its name … "Tenderloin" … This is the tenderest cut of Pork I've ever enjoyed and from now on will be a regular protein delicacy on my list of Paleo recipes.
Whether you're a novice or expert, smoking a pork tenderloin is easy.  Most tenderloins come packaged in a quantity of two.  You'll find the tenderloin to be relatively lean and free of excess fat.  But there will probably be some silver skin.  Remove the silver skin and excess fat before seasoning and proceeding.
Rub the pork tenderloin with Extra Virgin Olive Oil and apply your favorite pork rub/seasoning.  I really enjoy Jans Dry Rub on Pork as well as Poultry.  Wrap the seasoned tenderloins in plastic wrap and refrigerate overnight.
I recommend smoking a pork tenderloin at a temperature of 225ºF until the Internal Temperature reaches 145º-150ºF and resting the tenderloin under a foil tent for 15 minutes before serving. While using a Wood Pellet Smoker Grill achieves the greatest results you can use this recipe in your charcoal/propane grill, etc. as long as you maintain a set temperature and provide ample Hickory smoke.
I preheated the MAK 2 Star General  Wood Pellet Smoker-Grill  to 225ºF for the Pork Tenderloin using Pacific Pellet Gourmet Hickory BBQ Pellets.  Meanwhile I also preheated my Green Mountain Grill Davy Crockett Wood Pellet Smoker-Grill to 350ºF for the Spaghetti Squash.  Having the luxury of owning multiple pellet grills and other devices gives me great flexibility.  If you don't have multiple units you can use your oven to cook the Spaghetti Squash.
Took about 2½ hours for the pork tenderloins to reach an internal temperature of 147ºF.  Remember to always use an accurate meat probe.  Times are for planning purposes.  The Spaghetti Squash was sliced in half lengthwise and the seeds were scraped out.  Place the spaghetti squash upside down in a foil pan with 1 cup of water.  Bake the spaghetti squash at 350ºF for 2-2½ hours until the spaghetti squash scrapes off easily with a fork.
Asparagus is delicious and is very versatile.  One of our favorites is to just steam the asparagus and depending on your preference it normally only takes 15-20 minutes from start to finish.
The results were scrumptious … the Pork Tenderloin had a wonderful light hickory smokey flavor along with the flavor profiles provided by the Jans Dry Rub … but the cream de la creme is the tenderness of the Pork Tenderloin.  So tender that you can easily cut it with a fork.