Hickory/Apple Smoked 12 lb. Turkey
Sunday, November 21st, 2010 at 4:30 pm
Here's a little 12 lb gobbler I said I would smoke today so that the DW can take the turkey breasts to her sewing club luncheon tomorrow.
Rubbed the bird with Carolina Treet (CT) and Jans Dry Rub (JDR).  Wanted to see what the combo of CT and JDR would do to a turkey.  Preheated to 275ºF and kept it there on my PID cause I figured I would never get back to 250ºF but wanted to get as high as possible.  OBS only got to 240ºF so I put the bird in and the smoking chamber dropped to 177ºF before it started a slow upward swing in an attempt to recover.  [waiting for parts so my Son and I can can modify my OBS for a second element].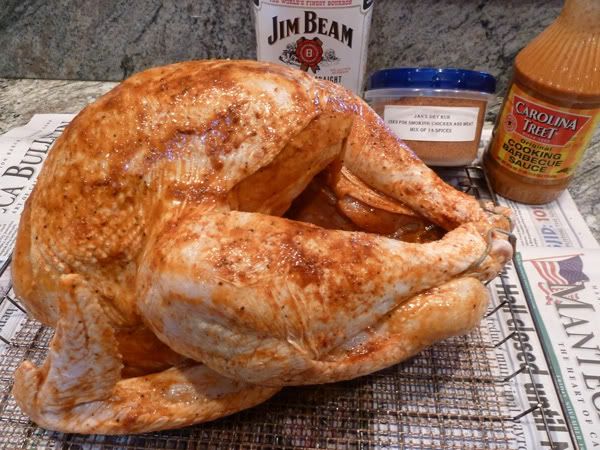 Started @ 9:30am with an IT of 40º
10:30am temp @ 195º and IT @ 72º
11:30am temp @ 215º and IT @ 112º
12:30pm temp @ 239º and IT @ 122º … after 3 hours of smoke (2) hickory to (1) apple I pulled the bird from the smoker to transfer to the oven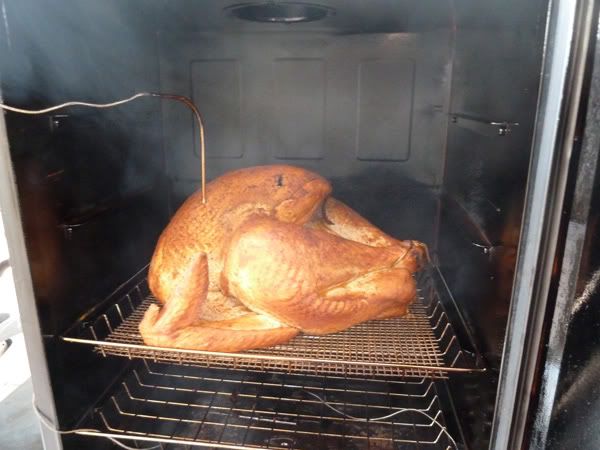 Placed in 350ºF oven and pulled when breast hit 163ºF / spent 2 hours and 10 minutes in oven
Divided up the gobbler.  Breast for tomorrow's luncheon and some of the rest for dinner tonight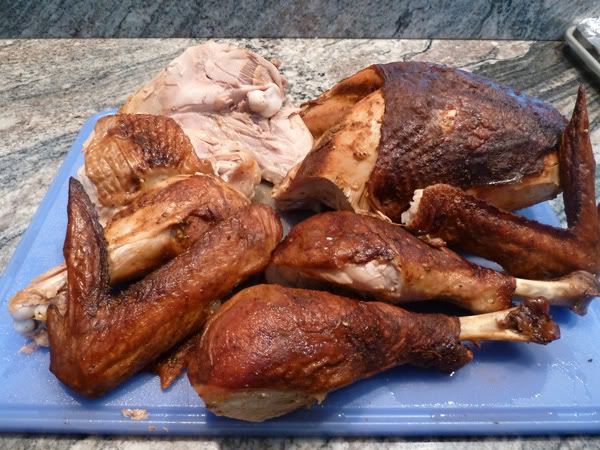 The money $$hot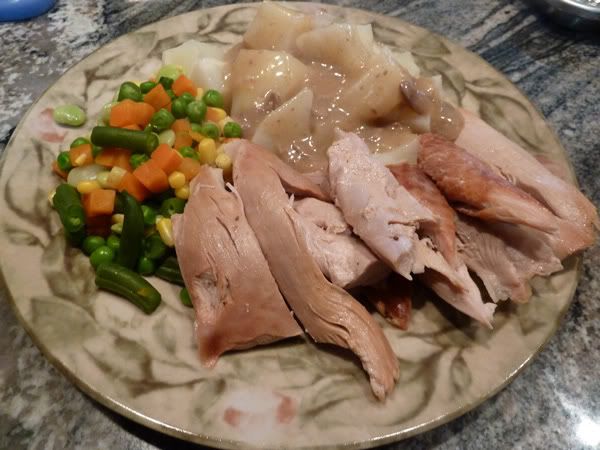 Not sure if this help or not but I learned a few things today so it's all good!!  CT and JDR with hickory on turkey are a good choice.  Onwards to the next smoke
Filed under: Turkey
Like this post? Subscribe to my RSS feed and get loads more!